Bix42 Cable Tv Billing software is the best mobile invoice billing and payment collection software. Bix42 offers wide range of services like Cable tv, Newspaper, Internet services Providers, Rent, Coaching, Shopkeepers, Gym, LMOs, LCOs, Milk, Tiffin, Water delivery and retail businesses.

We have built multiple features to help you conduct your business with ease. Know How?
#: How to register on bix42 billing Application
Download Bix42 from PlayStore> Select the Language > Register yourself with your Mobile Number
To download the app click on
https://bix42.app.link/CableTVBillingAppSEO
# Share Catalogue with your Friends And Families
To share the Catalogue of your business, Click on bottom right Action > click Share Catalogue.
Furthermore you can customize your Catalogue to your liking. You may also add the photo of your business and introduce your special plans. We also give you the option of sharing a combo of Cable tv and Broadband. You can also create your business cards and circulate them.
# Add Business Expenses
To certainly reduce Book-keeping and paperwork we help you record your Expenses Online to help you manage them. You can record the expenses incurred e.g. Petrol, Salary, Food, other.
# Login
Firstly, Register with your mobile number >Select your Business > Write your Company Name and Create your password for CABLE Tv, Internet, Milk, Rent, Newspaper billing App.
Create a password and use your mobile and password to login henceforth and secure all your data. If you need a guide on how to use the app for your service, you can also view the video guide on the home screen as well.
# Add details of your Business
Than on home screen press "Plan" on the bottom left > Add your plan> Press on the "Customer" on the bottom > Press on "Add Customer" and add your customers >
You can also create your Personal Package and select the GST percentage. You may also view your packages under the head package and charge different rates for different packages.
# Adding Customers
Press on Customers> Click on Add Customers>
Important: You cannot add two customers with the same Name or same Mobile Number. To add customers with the same name you will have to add an extension to the name for example Rinku 2. You can add the customer's location to get location wise data and assign agents for a particular location.
For adding Customers with existing balances, you can write the amount due from or to them in the Opening Balance. Finally, you can view all your customers in the customer section and check their status whenever you want.
# Monthly Billing – Cable Tv, Internet Service Provider, Newspaper, Milk, Rent, Fees management
Under the section Bill Details you can select whether to generate a bill every 30 days, End of every Month, or Every Month. You can also select the type of bill generation- Prepaid Billing and Postpaid Billing.
There is also an option of the selecting the GST for your bill NO GST, CGST +GST (Customer from Same State) and IGST ( Customer from different State).
To Generate Bill, Go to 'Add Balance' and select 'Renew' or 'Renew from Today'. The Automatic bill generation feature helps in generating BULK Bills on the fixed date. You can also add the extra items on the bill for the items that you want to charge the customers like Remote etc.
You can also change the balance due to account for rounding off the amount or for some other miscellaneous purposes.
After the Bill is Generated either Automatically or Manually at a date prior to the month end or the date fixed in the software you can share the Bill with your customers by clicking on the option Bill Share. You can also share the bill through various mediums such as WhatsApp, SMS, and you can also print the bill physically and share them.
# Bill Sharing and collecting payment
Bix42 also offers you with an option of sending the payment link to your customers for Online Payment, this not only saves your time from running door-to-door but also helps you in minimising costs like those on petrol, commission to collection Agents.
Click on Collect Payment and record if any discount is given to the customers. You can also select the medium through which you received the payment and take Online Signature of your customer. You can also send them a SMS to inform them of receiving the payment. To send them a copy of the bill click on Receipt Share and share the bill through WhatsApp, SMS or through Print Media.
# Summary and Data Collection
Under the subheading Monthly Total Collection you can view the customers who have made Online payment for bills for Cable TV in the current month.
The box Today's Payment Collected records the Online payment for bills made on the current day.
The Total Pending Amount shows you the amount still due from your customers and the number of customers whose payments are due.
Under the heading Monthly Online Collection you can look at the Online Bills Payment made by the customers in the month.
Under the Today Renewal you can look at the renewals of packages or plans made today and the upcoming Renewals are shown in the box Upcoming Renewals.
The heading Recharged But Payment Pending shows the customers whose package has been recharged but payment for which hasn't been received.
The box Recharged And Paid shows the customers whose subscription is recharged the payment for the same has been received,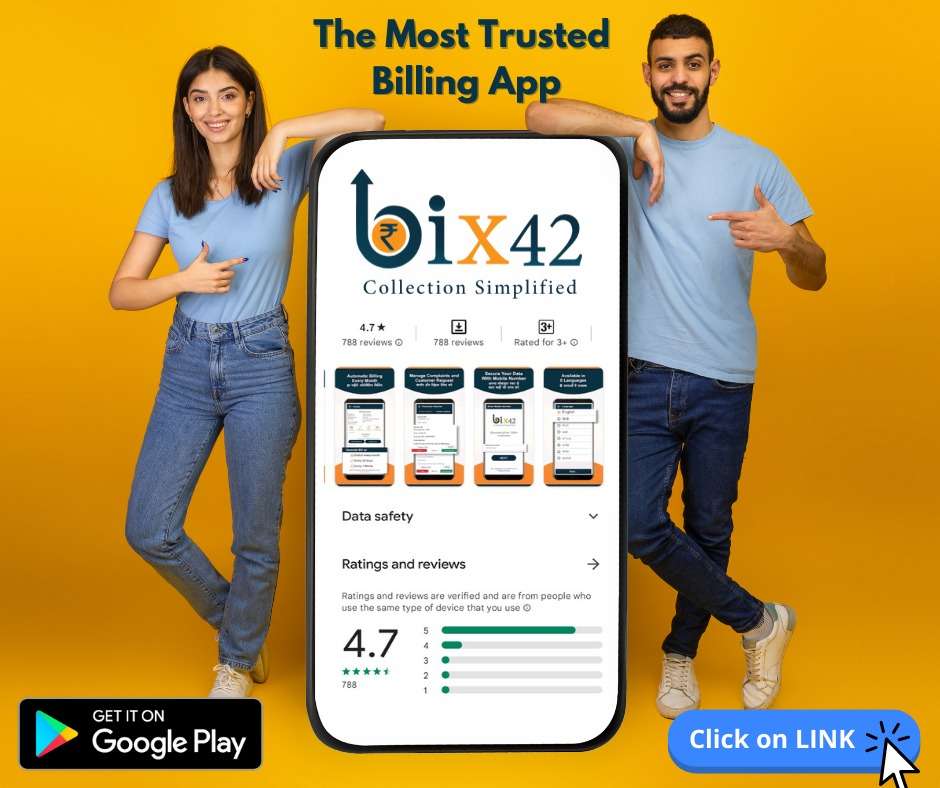 # Help & Assistance
In case of any assistance or any if a problem arises you can always contact us by pressing on Chat For Help, we are available on call and SMS between 10:00 am to 7:00 pm. We even try to attend to calls even after 7:00 pm. Every query is attended within 12 hours. You can also chat with us on WhatsApp.
# Notifications
Hit the Bell Icon for Notifications relating to your business. You can see all your transactions, Subscription Renewal here.
# Set up Account and Collect Money.
Press on the bottom right "Action"> Choose Bank Account Details> Fill your details
Generate bills and send them to your customers through WhatsApp, SMS, Mail. You can also send them a payment link to receive the money through debit card, UPI, Bank Transfer. The money will be received by Bix42 and would be then transferred to the bank account saved in your profile.# Collect Data
To get the data related to your business click on top left Cable> Download.
You can Download and Access all your Data relating to your business like Bills of customers, Monthly Ledger Report, Customer List, All Expenses.
# Agents
Adding Agents and allowing them to login and update the records is one of the most important features of our app. We allow you to add your Collection Agents and grant them permission to varying degrees. You can limit their actions.
After allowing your Agent with multiple permissions, to get more information about the money pending and collected by the Agent click on the Agent Name.
You may also check our profile on www.findglocal.com
https://www.findglocal.com/IN/Jaipur/360371601168180/Bix42—Billing-%26-Collection-
# Bix42 Cable Tv, Internet Premium Plans
The free version is for mobile only, with allowance of 1 Collection Agent ( 1 month Trial). The online Payment Commission is 1.5%(3% on Paytm). SMS charge is 25p/SMS and there is no Bulk Data upload Facility.
The Premium for mobile includes –
1 Collection Agent and 0% Commission on Online Payment with UPI and 1.5% on Paytm, Net Banking.
1 Auto Payment link reminder per Customer and charges 20p/SMS.
The Desktop Premium includes –
1 Collection Agent and 0% Commission on Online Payment with UPI and 1.5% on Paytm, Net Banking.
1 Auto Payment link reminder per Customer and charges 20p/SMS.
The Pro Premium comes with the feature of Customization of logo in invoices and a Free Bluetooth Printer. You can add up to 5 Collection Agents and the online Payment Commission is 0.5% up to 2000 and 1.5%( 3% on Paytm) for above.